Need help to RE-home a CAT(s) ...

Miami County Humane Society - offers services for cats only   Email: PerdyGirly@aol.com

The TENTH Life , Xenia   937-376-5550  or visit  website

Cat Connection of Cincinnati  513 - 723 - 5161

Pet Advocate League (Dayton) 937-278-8330 or visit website 

Colony Cats and Dogs Columbus  614 - 570 - 0471

GOOGLE (online) these keywords "feline rescue groups in ohio" or "rehoming a feline"

Vist ADOPTaPET or PETFinder for rehoming information & suggestions

LONG LIST of RESCUES and RESOURCES ...  click here

DREAM4pets.org  - Felines


Dedicated  Rescue  Efforts  for  Animals  in  Many counties

   We are an approved 501c3 partnership organization with DREAM  

TNR program: Trap-Neuter/Spay-Return

Local:   Cat Advocates of Troy.......  EMAIL  CatAdvocatesofTroy@yahoo.com

Local:   PURRS in PIqua  .......  Visit FACEBOOK.com/Purrs in Piqua

Local:   Calico TNR  ....... Visit FACEBOOK.com/Calico TNR

The primary mission of all TNR programs ( and organizations) is to STOP and REDUCE the  overpopulation of STRAY and FERAL felines, in our county, by utilizing a TNR program where FELINES are trapped, spayed or neutered, and returned to their colony...  with the assistance of community caretakers and volunteers.

HUMANE TRAPPING INSTRUCTIONS are available online at these links:

MORE GREAT RESOURCES for our FELINE friends and caretakers:  

Alley Cat Allies is the only global advocacy organization dedicated to protecting
and improving cats' lives, with lots of GREAT resources regarding FELINES  https://www.alleycat.org/

LOW COST SPAY & NEUTER and VACCINES for CATS 

RASCAL unit  by reservation only, contact MiamiCounty Animal shelter  332-6919

Darke County Humane Society   Greenville, OH  548-1009 or 548-7299

Shelby County Animal Shelter (Sidney) brings in a mobile clinic every quarter, call 498-7201

Logan County (Bellefontaine) brings in a mobile clinic every quarter ,


         CDC = Columbus Dog Connection is the mobile clinic that travels to Logan and Shelby
Animal Care Alliance  (Richmond, Indiana)   765 - 488 - 1342  visit their facebook page

PAL (Pet Advocacy League)    937-278-8330  or visit website    

LOW COST VACCINES for CATS and DOGS

Tractor Supply Company - Visit or call your local store for details (monthly)

PETCO (Troy)   One Sunday/month   937- 339 -7398

RPETS in Piqua, 3rd Thurs/month, 5 -7pm    773-7738


  How soon can you spay or neuter ?  Fix at FOUR
!

  What if they are kittens...........
       As long as they are 8 weeks and 2 pounds then they can be spay/neutered.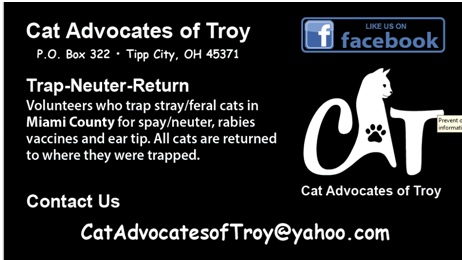 In 2018, DREAM pet rescue.... formed a partnership with

CAT Advocates of TROY which manages a TNR program

to STOP & REDUCE the overpopulation of FELINES in our county.    

VOLUNTEERS are always welcomed and needed for trapping or

transporting to and from the vet office.

If you would like to volunteer (a little or a lot), please Email